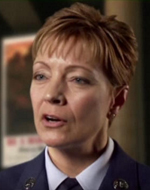 Denise Jelinski-Hall
Chief Master Sergeant Denise M. Jelinski-Hall was the Senior Enlisted Leader to the Chief National Guard Bureau. Before retiring in 2013 she was responsible for advising senior leadership on all matters related to enlisted personnel.
QUESTION: What is your job?
DENISE: My primary responsibility is I am the advisor to the chief of the National Guard Bureau on all enlisted matters. Health of the force, morale, education, professional development, anything that touches our enlisted corps, I have to be prepared to provide that counsel and advice to the chief of the National Guard Bureau to train, organize and equip our Soldiers and Airmen of our National Guard.
QUESTION: Why did you join the Air Force?
DENISE: I grew up in a small town, and after high school I got a job that was pretty much, you know, what we did after high school, those that didn't go on to college. And I didn't have the resources to go to college so I got that job in hometown America and I worked in a bank for about five years and I quickly realized that I wasn't going to get promoted or make any more money because people had to die in order for me to move up. And that's not a good thing. So I was working in a bank for about five years, and my girlfriend that I had met through the bank had walked in one day and she happened to be a Soldier in the Army National Guard. She said, Denise you ought to join the Air Force and get out of this town. I had never given it a thought to join the military, although my father was a Soldier in the Minnesota Army National Guard. Never talked about his service. So I really had no idea what my father did. So she talked to me a little bit about joining the Air Force, and she literally took me to a town about 30 miles away to visit with a recruiter. And this recruiter, he sold me hook, line and sinker. He talked to me about being an air traffic controller. And I thought, wow, this sounds really exciting. And he talked about education, travel, serving my country, and it sounded good to me. It gave me an opportunity to kind of get out of small town America and be able to serve my country and go on and do something else. So, within six weeks, I put in my resignation to the bank, I had sold my car, sold my furniture, packed up all of my things and said, see you mom and dad. And I was off.